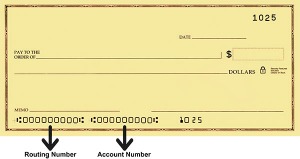 Automatically get your paycheck or other funds deposited into your checking or savings account. The funds are added to your account without any action required on your part whether you are out of town or too busy to make it to the bank your account will be credited.
Information you will need from us:
The Bank's Routing Number –091903310

Your Account Number

Type of account receiving funds (checking or savings).

Start by asking your employer or organization that is paying you if they offer Direct Deposit.
WARNING:  Your bank routing and account numbers are sensitive information. Don't provide those numbers to anybody unless you trust them.